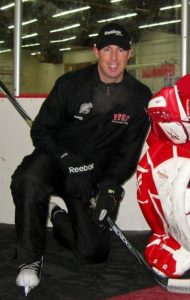 We believe that the foundation of everything goalies learn is based on positional mastery. Goaltending development from Novice aged beginning goalies to Pro caliber athletes, all our students are taught to continually work towards improving their positioning skills. Stressing confident positioning is where all goalies start. Once positioning has been understood and demonstrated consistently, our students are ready to start learning the mechanics of stance, movement, challenging shooters, rebound control, playing the puck, and directing play in the defensive end. These are all teachable skills that with our tested training methods have been shown to contribute to the exceptional development of goalies aspiring to raise their game to a higher level.
Our Instructors are sticklers for details. Details on stance, positioning, holding your stick and other subtleties can mean the difference between the one that got past you and making the winning save. Students are constantly monitored and assessed for their adherence to practicing exactly as the instructors have explained. Long term, we have found that this attention to details makes our students more aware of the finer points of their game and aids in developing their mental toughness.
Our camps are offered in session sets with each set consisting of 5 sessions, each session lasting either one or one and a half hours. We have many students who take advantage of our year round training discount and will attend 35 sessions in a calendar year and others who opt for just 1 set. Each set starts with a skating and movement intensive portion to provide our qualifies instructors an opportunity to place students in a training group with other goalies of equal ability. Once training groups are established, each student will progress through each station for the remainder of the set with the other members of their group.
To effectively offer the high level training we do, we must take advantage of our training time. Up to 8 different stations are run simultaneously, each with it's own training group of 3 or 4 students and 1 or 2 instructors. With this much activity on the ice at a time, adherence to some simple rules is crucial: • All students are required to be on the ice on time in complete gear • Students are to remain with their group during the entire session • When the instructor is talking everyone else is listening • Time is valuable, horseplay and inattention to the instructors will result in the student being asked to sit and watch for the remainder of time at any particular station